OUTSIDE THE 370

From the outside, the 370 is very similar to a number of players and VCR's currently on the market.
A well lit, blue LED display shows the current status of the disc inserted, and also some other items such as Dolby digital indicators etc.
Front panel controls are well laid out and comprehensive, giving a nice look and operational "feel" to the player.
(summary of controls: Standby on/off, Open/close, Play, Stop, F.Forward, F.Backwards, Skip Forward, Skip Backward and Up/Down/Left/Right/Enter joypad style controls)
Coloured "Champagne" or "Gold" for UK and most European players, and Silver or Black in other countries.
CONNECTIONS
The 370's rear connection panel is a cut down version of it's parent player, the LG 3350 (also known as the 3351E in Europe)
Main differences are the abscence of the Dolby digital decoder outputs, and the 2nd scart socket.
It's intersting to find though, that the connection areas for both of these items can be found on the main circuit board of the Aiwa (see special features page), but as yet, I am unable to confirm if these items will or will not work if the sockets are connected.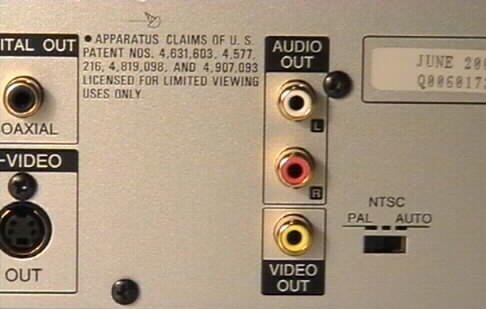 Here we see a close up view of the PHONO outputs and the SVideo Minidin plug.
The Phonos will allow connection of Left and Right Audio, Digital Coaxial Audio and Composite Video.
The minidin plug is used to connect to suitable S-enabled TV's with an appropriate cable. You may also notice from the above, the "NTSC/PAL/AUTO" switch which allows the switching of the output video type for selected TV's. It's interesting to note, however, that the 370 will output PAL from NTSC coded discs when the switch is set in PAL mode. Another little "quirk" from this switch is the fact it disables the player from playing PAL encoded discs when set in NTSC mode (player reports "CHECK DISC" on the TV screen!).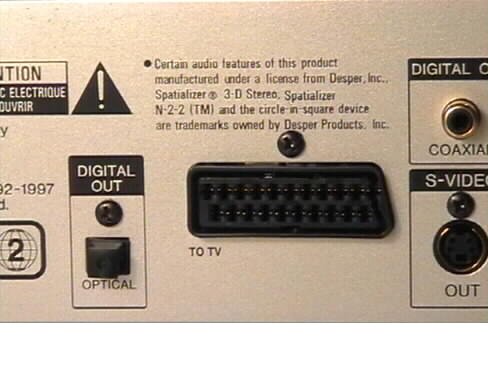 Here we can see the Scart socket and the Digital OPTICAL audio output. The Scart will allow the connection of a standard 21-pin Scart connector cable between the player and compatible TV. This allows the feed of Composite and RGB signals to the set (although RGB on some players is stated as "Component" in the setup menus), it will not, however, output SVideo signals.
The Optical connector again allows the connection of a suitable cable to a suitably equipped amplifier, giving the ability to output Dolby Digital and DTS signals if the amplifier can handle them.